Find The Best Pet Insurance In NY
Searching for pet insurance for your dog or cat in New York is a great idea regardless of whether you live in New York City, Buffalo, Long Island, or Rochester or anywhere else in this East Coast State.
Among NY's nearly 20 million people, it's estimated that of the roughly 4.5 million dogs and 3.4 million cats only about 1 in 50 (about 2%) of those pets are covered today by pet insurance according to the North American Pet Health Insurance Association.
How Much Will Pet Insurance Cost You In NY?
Your New York specific quote will depend on whether you have dog or cat, their age, breed and other factors – so it's best to get a free personalized estimate.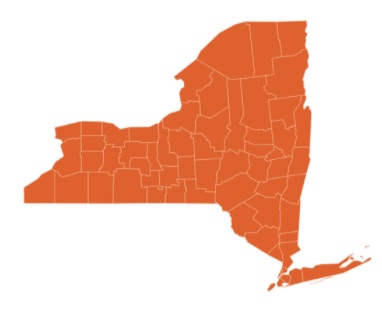 An estimated 8 million dogs and cats in NY don't have insurance coverage.
Article Contents
Best New York Pet Insurance Options
Regardless of whether you live in Upstate New York, in the City or on Long Island or the Hamptons, you'll be able to find some of the best insurance coverage for your cat or dog from these top rated pet insurance providers cover you in NY.
Research Personalized New York Pet Insurance Quotes
What Does Pet Insurance Cost In New York?
How much does pet insurance in New York cost? What will your monthly premiums be? The table below will give you some concise estimates about the price and how much you might pay each month for your premiums based on some pet and age examples. Or you can research and get more specific details for dog insurance or cat insurance specifically.
Annual New York Pet Insurance Price Premium Estimates
Adult Golden Retriever: $540 to $1,620 per year for an 80% reimbursement plan & $500 deductible
Puppy Golden Retriever: $396 to $1,332 per year for an 80% reimbursement plan & $500 deductible
Adult Chihuahua: $288 to $996 per year for an 80% reimbursement plan & $500 deductible
Puppy Chihuahua: $228 to $828 per year for an 80% reimbursement plan & $500 deductible
Adult Domestic Cat: $216 to $564 per year for an 80% reimbursement plan & $500 deductible
Domestic Kitten: $180 to $480 per year for an 80% reimbursement plan & $500 deductible
Monthly Pet Insurance Costs For NY
| Pet Breed & Age | New York City, NY | Buffalo, NY | Albany, NY |
| --- | --- | --- | --- |
| Golden Retriever (Adult) | 5 Years | $66 – $135 | $45 – $111 | $45 – $120 |
| Golden Retriever (Puppy) | 6 Months | $49 – $111 | $33 – $91 | $33 – $99 |
| Chihuahua (Adult) | 5 Years | $36 – $83 | $24 – $68 | $24 – $74 |
| Chihuahua (Puppy) | 6 Months | $28 – $69 | $19 – $56 | $19 – $61 |
| Domestic Cat (Adult) | 5 Years | $26 – $47 | $18 – $38 | $18 – $42 |
| Domestic Cat (Kitten) | 6 Months | $22 – $40 | $15 – $33 | $15 – $36 |
Estimates for Monthly Premiums from Pawlicy.com based on 80% reimbursement rate, unlimited coverage and a $500 deductive. Prices may be lower or higher for different coverage options, locations, breeds, ages and other factors.
Is Pet Insurance Worth It In NY
Pet insurance is like any other insurance. You have it as protection, but hope that you will never need it. Unfortunately 80% of pet owners can't pay for a $5,000 veterinary bill out of pocket and 40% of Americans can't afford to cover an unexpected $400 bill on their own.
Unexpected vet bill in Rochester, New York City, Syracuse or any major city in New York can easily be hundreds if not thousands of dollars. So getting pet insurance in NY is a great way to both protect you against the unexpected costs of a pet injury or illness while making sure your pet will get the health care they need.
How Much Are Vet Visits?
An emergency trip to your vet will vary widely by the type of care your dog or cat needs, their health history and the type of pet, size or breed. As you can imagine, the more serious the emergency the more expensive the care will be.
Treating a cut on a small dog may be fairly minor in costs like a few hundred dollars, but treating a broken leg on a large dog may easily cost $5,000 or more.
Compare Cost Estimates Of Emergency Vet Visits
When considering how much an unexpected vet visit in NY might cost you, it's important to remember that vet prices are also influenced by the region you live in. New York is on the higher end of living costs in the United States with an average of about 39% more expensive than the US as a whole.
Estimated Vet Procedure Prices In New York
Cats
Dog (Small)
Dog (Large)
Exam / Vet Consultation
$139-$209
$139-$209
$139-$209
Diganostic Bloodwork Panel
$111-$278
$111-$278
$111-$278
Pet X-Ray
$209-$348
$209-$348
$209-$348
1-2 Days Of Pet Hospitalization
$834-$2,085
$834-$2,085
$1,112-$2,363
3-5 Days Of Hospitalization
$2,085-$4,170
$2,085-$4,170
$2,780-$4,865
Treating / Repairing A Wound
(Cuts, bites, scratches)
$1,112-$2,085
$1,112-$2,780
$1,390-$3,475
Pet Surgery
(accident, swallowed something, break)
$2,085-$4,170
$2,502-$4,170
$2,780-$6,950
Oxygen (pet asthma, heart failure, breathing issues)
$695-$3,475
$1,112-$3,475
$1,390-$4,170
Ultrasound
(for diagnosing issues)
$417-$834
$417-$834
$417-$834
Stats From Emergency Vets USA with Regional Cost Of Living Adjustments For NY
It's important to note that the table above may not be what you pay for services in your area. These prices are averages based on the type of treatment being offered across the whole US. Also, there are often other costs that may be necessary like medications (pain meds can easily run another $40-$80), appointments, vet office fees, additional lab fees.
As you can see the costs can quickly add up to be thousands of dollars. It's also important to consider that things can quickly stack on top of each other.
For example: If your dog broke a leg that requires surgery, the surgery bill alone may be $3,000 but it also requires a few days in the hospital to monitor the pet which now adds another $2,000. This is not to mention the likely X-rays and diagnostic work ups.
Does My Vet Take Pet Insurance?
How do you know if your veterinarian in New York accepts pet insurance or the pet insurance you end up choosing? We know this is an important question because for so many people a great vet who gets to know both you and your pet is like a family member.
All NY Vets & Animal Hospitals "Accept" Pet Insurance
The good news for New York residents however is that you don't need to worry about whether your vet accepts pet insurance – because pet insurance companies reimburse you directly instead of paying the vet. So your pet insurance is going to make sure you are covered at any vet.
How Does Pet Insurance Work In New York?
Unlike your human health insurance that you may be familiar with that has networks and approved providers, pet insurance is much simpler because your pet insurance company will reimburse you directly and let you use the vet of your choice. So this means no hoops to jump through about finding specific vets covered by specific insurance companies. Keep the vet your dog or cat loves!
What's the Pet Insurance Process Like?
Research and purchase your pet coverage policy.
Get your pet treated at the NY vet of your choosing.
Pay your vet yourself via cash, check, credit card & keep all the bills and receipts.
Submit a claim to your pet insurance provider.
Get reimbursed (usually in about a week) based on your plan's policy, terms and specifics.
What Are The Types Of Insurance Plans?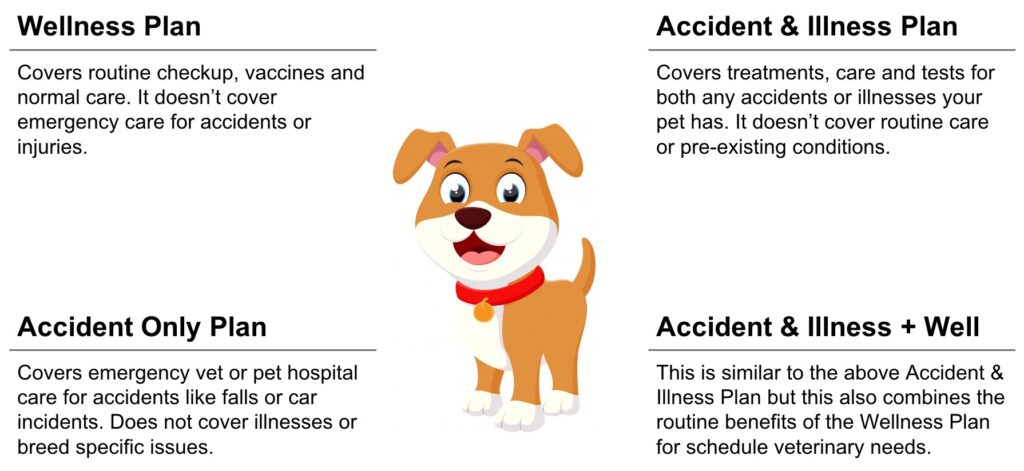 Pet Insurance Plan Type
It Covers
Doesn't Cover
Average Annual Cost / Premium
Pet Wellness Plan
Routine checkups, vaccines, normal care
Accidents & Injuries
Pet Accident Only Insurance
Emergency vet care for accidents
Illnesses, pet specific breed issues, pre-existing conditions,
$190 (Dogs) / $141(Cats)
Pet Accident-Illness Insurance
Treatments & tests for both accidents & illnesses
Routine care, pre-existing conditions
$566 (Dogs) / $354 (Cats)
Pet Accident-illness + Wellness
(Most comprehensive option)
All expected or unexpected treatments
Pre-existing pet conditions
Cost Estimates From Today's Veterinary Business
Details Of The Insurance Plan Types
It's important to understand the difference between these plans and maybe most specifically what is considered a "pet accident" vs. a "pet illness" because it can make a big difference on whether you are covered or not.
What's A Pet Accident?
It's considered an "Accident" when your dog or cat is physically injured due to a mishap. For pets these are often related to things like being hit by a car, falling off a balcony, or a fight with other animals. Things that typically occur and need vet treatment from an accident include (but are not always limited to):
Broken bones
Burns
Cuts
Other physical injuries
A pet accident plan will cover the vet bill reimbursement (excluding an deductibles or extra copays) for the emergency vet or hospital care for your dog or cat's accidents. Please make sure to note pet accident insurance coverage does NOT cover illnesses or breed-specific issues.
What's A Pet Illness?
Pet illnesses are issues your pet has that are not related to a specific incident or accident. Some common items include:
Viral infections
Parasites
Hip dysplasia (check your plan)
Cancer
What's A Pet Wellness Plan?
A wellness plan for your dog or cat offers reimbursement for the regular pet preventative care that you regularly plan on needing for your pet. This are the expected items like your pet vaccines and regular checkups.
It's important to note however that these costs for your pet are fairly predictable and easy to plan for because they happen regularly and are more predicable in cost. Most people don't purchase a "just wellness" pet plan. More frequently this is a smaller add on to an accident or accident-illness pet coverage plan.
What's The Most Popular Type Of Pet Insurance Plan?
If you live in New York and are trying to decide which of the above options are the best choice for your dog or cat, we recommend getting personalized quotes and looking at which options meet your budget and coverage needs.
In the United States, most people choose the Accident & Illness coverage plans because it gives them the most comprehensive protection for their pet and their finances. In fact, 98% of pet insurance plans are accident-insurance combination plans.
NY Pet Insurance Plan Details & Options
How Much Are Insurance Deductibles In New York?
Whether you are getting your plan in the Empire State or anywhere else in the country, your deductible is actually not related to your region. The deductible for your insurance plan is going to be based on the specific plan you choose.
In general, you can choose a Higher Deductible plan and that will mean your monthly or annual premiums will be lower. On the other side, if you want to be protected against having to pay a higher deductible amount out of pocket during an emergency you can opt for a lower deductible plan and choose to pay higher premiums.
As with human health insurance, pet insurance deductibles can feel complicated at times, because they are! If you'd like to get all the details, check out our pet insurance deductible FAQ guide.
The Most Common Annual Deductible Amounts Are
Why Choose A Higher Deductible Plan?
When it comes to pet insurance deductibles, you may wonder why you would ever want a $500 deductible vs. a $100 or $250 deductible? Isn't paying less out of pocket for emergency pet hospital or vet costs a no brainer?
The answer isn't quite that simple because deductibles are a tradeoff between premiums. In order to have a lower deductible for that emergency coverage you will have a higher monthly or annual insurance premium. So how do you choose which is better?
It comes down to your financial situation. Would you prefer to pay a little more in premium each month or year in a very predictable amount to save that extra money on the deductible IF something does happen?
Or would you like to keep your monthly pet premiums lower each month, but know you will have to front a little more cash towards your deductible IF something does happen that requires you to request insurance reimbursement.
What Is The New York Reimbursement Percentage For Dog Or Cat Insurance?
The reimbursement percentage on your pet policy is based on your specific policy and provider and not related to where you are located. Typical reimbursement percentages usually range from about 70% to 90%.